Name Information
Name
Yami Sukehiro
Kanji
ヤミ・スケヒロ
Rōmaji
Yami Sukehiro
Alias
Destruction God 「破壊神 Hakaishin」

Character Information
Status
Alive
Species
Human
Gender
Male
Affinity
Darkness
Age
28
Birthday
September 17th
Constellation
Virgo
Height
183 cm
Blood Type
O
Eyes
Black
Hair
Black
Occupation
Magic Knight
Affiliation
Squad
Black Bull
Country
Clover Kingdom

Debut
Manga
Chapter 2

Image Gallery

Yami Sukehiro 「ヤミ・スケヒロ Yami Sukehiro」 is the captain of Clover Kingdom's Black Bull squad of the Magic Knights.[1]
Appearance
Edit
Yami is a tall man with a muscular build. He has black eyes and black hair of medium length that is messily combed backward. Additionally, he also sports a stubble mustache and beard.
Yami's attire is very simple and consists only of a white A-shirt and black trousers. The trousers have an extra layer of tan leather that covers his outer thighs and down to his knees. The trousers are only supported by a belt around his waist. Yami wears another pair of belts, one of which he uses to carry his grimoire. Lastly, he wears black high boots that cover most of his calves.
As the captain of the Black Bull squad, Yami wears a black banner with the squad's insignia on it. He wears it over his right shoulder and it is attached by two strings to his left shoulder. The banner also has tattered edges, seeming to have been ripped off from a bigger banner.
For the Star Awards Festival, Yami wears a simple robe over a fundoshi, and a twisted hachimaki tied in the front. He also carries an uchiwa. The fan and the back of the robe bear the kanji 祭 ("festival"), and the left lining of his robe has 暴れ牛 ("rampaging bull").[2]
Personality
Edit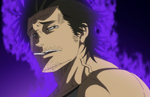 Yami is normally a very quiet person that only speaks a few words. However, he is also a hot head, who could be easily enraged by something as small as being bumped by another person.[3] Yami also has a penchant for intimidation whether he uses threatening words or physically hurts his target.[4][5] He also tends to immediately go straight for a more physical solution to any problems or confrontations, such as when he destroys a part of the squad's headquarters to calm his subordinates.[6]
Furthermore, he also prefers instilling tough loves to his subordinates by giving them dangerous missions. He believes that it is the best way for them to overcome their limits and grow stronger.[7][8] Yami also does not discriminate people according to their social status or circumstances where he is willing to accept Luck Voltia, Noelle Silva and Asta to join his ranks, even though he is aware of each of their problems.[8][9][10]
Biography
Edit
He was born in the Land of the Rising Sun[11] to a pair of fisherman. As a young man, he goes fishing, shipwrecks, and washes ashore in a strange country. There he is met with troubles because of culture shock and racial discrepancies.[12] When Yami receives his grimoire and releases his Dark Magic, others hate and fear him, except for Captain Julius Nova Chrono, who is fascinated and invites the boy to join the Magic Knights.[13]
Years later, Yami invades the Witches' Forest, fights the Witch Queen, and smashes into Vanessa Enoteca's prison, freeing her.[14]
The day after his nineteenth birthday, Yami is enjoying noodle soup when the Thorn Magic curse on House Roselei causes the soup to spill on him. Cutting through the thorns, Yami confronts and chastises Charlotte Roselei for relying only on herself. At that point the curse is broken and dissolves because Charlotte falls in love with Yami.[15]
After beating up those who trouble him, he becomes the boss of Black Bull,[12] around the same time as William Vangeance's becoming captain of Golden Dawn squad.[16]
During conflicts between the Clover Kingdom and the Diamond Kingdom, Yami fights and injures Lotus Whomalt, scaring and scarring the Diamond Kingdom mage.[17]
Before the Magic Knights Entrance Exam, Asta runs into Yami and other members of the Black Bull squad. Yami threatens to kill the boy but is stopped by the beginning of the exam.[18] During the exam, Asta's athletic ability and determination impress and weird out the Black Bulls captain.[19][20] When none of the other captains recruit Asta, Yami releases his Magic Power and tries to intimidate the boy. However, Asta remains determined, and amused by the boy's response, the captain recruits him.[21] Angry about Asta making him wait, Yami threatens the boy again and then throws him through Finral Roulacase's portal to the Black Bulls' base. There, Yami welcomes Asta to the squad.[22]
After the ceremony, Yami boasts about his squad's position to the other captains, which angers Nozel and Jack. However, Lil sticks up for Yami, and Dorothy snores which Yami still does not understand. As Nozel and Jack leave, Meleoleona Vermilion arrives holding Yuno and Asta. Yami laughs at them until he, too, is grabbed by the Crimson Lion captain. After also grabbing Charlotte and Noelle, Meleoleona carries them to the Ultime-Volcano Mountain Trail to train with the Crimson Lion squad.[23]
Yami then heads out first with Charlotte and uses his Dark Magic to cut through falling lava.[24] He then realizes that he and the others are being used to motivate and model for Meleoleona's men.[25]
Battle Prowess
Edit
Dark Magic: Yami uses this form of magic to generate and manipulate darkness.[26] He primarily uses this magic to increase his physical abilities and by channeling it into his sword.[27] This magic also has the ability to draw in other forms of magic, namely Light Magic, absorbing it into the darkness.[28]
Reinforcement Magic: Yami uses this form of magic to enhance his physical abilities. It also allows him to make up for the slow speed of his Dark Magic.[29]
Abilities
Edit
Master Swordsman: Yami has described himself as a magic swordsman.[31] He is highly proficient in swordsmanship; he easily fights on par with Licht, the leader of White Night Eye, with nothing but swordplay in conjunction with his Dark Magic, destroying the surrounding environment.[32]
Enhanced Speed: Yami is very fast, surprising someone as fast as Licht with his speed.[40] When Lotus Whomalt attempts to launch a surprise attack on William Vangeance, despite having to climb a massive tree,[35] he arrives just in time to intercept him.[41]
Ki: A principle originating from his homeland, this skill allows Yami to use a sixth sense to perceive and react to unseen attacks or persons.[42]
Immense Magic Power: As a captain of a Magic Knights squad, Yami possesses an immense amount of Magic Power, shown when the anti-birds flee as soon as they realize his presence.[43] This is further proven when the slightest release intimidates multiple people.[4] After Yami blocks and counters Licht, Valtos wonders if the captain could rival the Magic Emperor.[44] Gifso, the High Priest of the Seabed Temple, acknowledges Yami as being too powerful for his game.[45] After watching his squad fight at the brink of death, he surpasses his limits to escape the White Night Eye's dimensional trap, and becomes powerful enough to defeat Vetto.[46] Julius Nova Chrono states that Yami has grown more powerful after he returns to the kingdom.[47]
Equipment
Edit
Notable Quotes
Edit
Initial Concepts
Edit
Yami's favorite things are tobacco, coercion, and interesting people.[57]
Yami is the most muscular character.[58]
References
Edit
Ad blocker interference detected!
Wikia is a free-to-use site that makes money from advertising. We have a modified experience for viewers using ad blockers

Wikia is not accessible if you've made further modifications. Remove the custom ad blocker rule(s) and the page will load as expected.