Kikka 「キッカ」 is a town in the Common Region of the Clover Kingdom.[1]
Description
Edit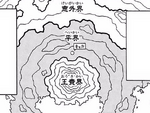 Kikka is one of the castle towns of the Clover Kingdom, due to its close proximity with the Noble region. The town is close enough that the citizens could have a vivid view of the Kingdom's palace from it. Kikka is a well-developed town with paved roads and many large stone-based houses. The amount of houses established in Kikka suggests that it has a considerably large population.[2]
One of Kikka's prominent features is its strong trading center. Various merchants, from foods to weapons, come to Kikka for business in which makes Kikka's market as one of the liveliest markets within the Kingdom. Many people, including the Magic Knights, come to Kikka for their errands.[3]
Notable Venues
Edit
Black Market: the market is one of the hidden locations within the town. Generally, people are aware of its existence, but the nobles tend to avoid entering the said place. The market houses merchants who sell goods, which are not allowed to be sold at a regular market. Additionally, the black market also features a casino where people could gamble in various games.[4]
References
Edit
Ad blocker interference detected!
Wikia is a free-to-use site that makes money from advertising. We have a modified experience for viewers using ad blockers

Wikia is not accessible if you've made further modifications. Remove the custom ad blocker rule(s) and the page will load as expected.