The encyclopedia of the Black Clover series by Yūki Tabata which started serialization in the Weekly Shōnen Jump magazine since February 16th, 2015. The Wiki's main task is to progressively collect and archiving all Black Clover related materials into exclusive pages.

Currently, we are editing over 559 articles and 1,105 images in this wiki.

Make sure to visit our pages and deepen your knowledge on the magical story of Black Clover!
WARNING! This wiki contains spoilers. Read at your own risk!
Featured Quote

"
People look to the Magic Knights for one thing... the peace of the Kingdom. In order to preserve that, we'll keep fighting with everything we have.
"
— Julius Nova Chrono in Light


Featured Article
Volume 7 is HERE!!
---
The 7th volume of Black Clover rounds off the Rescue the Children Mission storyline.
But there is a traitor in the Magic Knights, and Julius needs Asta's help to find out who.
The 7th volume was published on June 6th, 2017.


Latest Episode


Latest Chapter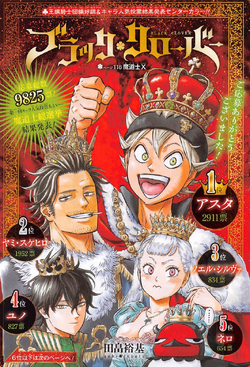 Featured Image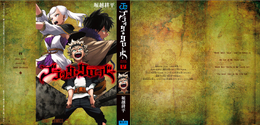 Black Clover by Kohei Horikoshi


Series Poll
Which team will win the Crystal Destruction Tournament?
Previous Polls
Ad blocker interference detected!
Wikia is a free-to-use site that makes money from advertising. We have a modified experience for viewers using ad blockers

Wikia is not accessible if you've made further modifications. Remove the custom ad blocker rule(s) and the page will load as expected.